NICT Open House 2017 in Okinawa
Date&Time: Thursday, 23rd Nov. 10:00am-16:00pm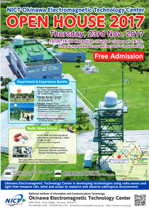 Reception closes at 16:00.
Venue: 4484 Onna, Onna Village, Kunigami-gun, Okinawa
 Natioanl Institute of Information
         and Communications Technology
 Okinawa Electromagnetic Technology Center (
MAP
)
Free Admission               
Flyer (PDF236KB)
●Radio Sonde Launch  10:30-, 13:00-, 15:30-
●Radar Tower Tour
for 6 years and above. A gurdian must accompany the child who joins the tour.
Please wear shoes. No heels and sandals allowed to go up the tower.
●Speed Measuring Radar
~~ Open Experiment for Junior High and High School Students ~~
We are having an open experiment as stated below.
We wish that many students get interested and take part in the event.
Please follow "How to make an application", if you wish to join.
If we have a large number of applications, the participants will be selected randomly.
●Details: Let's challenge "Remote-Sensing"!
     You will assemble a PC, Ardiuno, and a sensor,
     then study how to control it (programming) and validate.
●Time: (1)10:30-11:30, (2)13:00-14:00, (3)15:00-16:00
     7 participants max. in each session.
●Free of charge
      You can take your assenbled device home after the experiment.
☆☆☆ How to make an application ☆☆☆
Please prepare a reply-paid postcard and fill out your name, etc.
as stated below.
Reply-paid postcards are available at the post offices
or some convenience stores.
*Note* Postal fees had been changed since 1st June this year
and it costs 124 yen for a reply-paid postcard.
《Back of the card》
 1.Your name
 2.Name of your school
 3.Your phone number
 4.Session time you wish to join (1), (2) or (3)
《Face of the return card》
 1. Your postal code
 2. Your postal address
 3. Your Name
We use all the personal information only for this experiment matter.
Please send the reply-paid postcard to:
904-0411, 4484 Onna, Onna Village
NICT
Okinawa Electromagnetic Technology Center
Open house section
Time limit for application: Thursday, 2nd Nov. 2017 (Postmarked)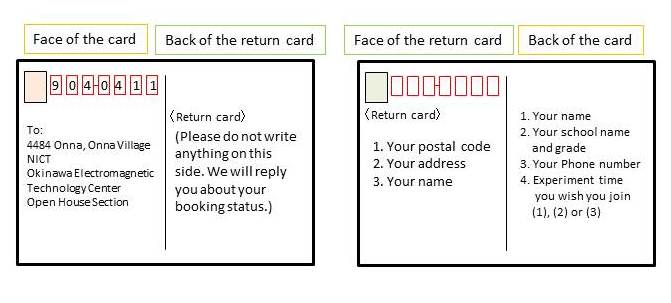 We will send the return card to inform you about selection results
around 10th Nov.
Inquiries: National Institue of Information and Communications Technology
      Okinawa Electromagnetic Technology Center
      Open house section
      Phone No: 098-982-3705
      (Mon.-Fri. 9:00am-16:30pm except 12:00pm-13:00pm)