Nago Science Festa 2018 in Nago city
Saturday, 27th January, 2018


 On 27th of January, Nago Science Festa 2018 (Organizer:
Okinawa Zoo&Museum
) was held in 21seiki-no-mori Taiikukan(21st Century Forest Gym), Nago city.
 We participated as "Paper cup Speaker Workshop", titled "Welcome to the world of electricity! Let's make a paper cup speker with a coil and magnets!"
 Children who joined our workshop listened studiously, while the lecturer showed inside of a speaker box and put some azuki beans on the cone of the speaker to show how it vibrates. Lecturer also explained about the structure of a sound and interesting relationship between magnets and sound.
 Children made a coil at beginning and completed an own speaker using two paper cups and two magnets. Their delightful face when their own speaker worked was memorable.
 Some were interested in soldering iron and coil, came up with good questions like "Will the sound become lauder if we use a longer wire?",
"How can we solder without difficulties?"
 There were many booths presented by other institutions and we could promote interests and knowledge of science that is actually familiar.
Thank you for all who joined and cooperated our workshop!
---
Date&Venue
Saturday, 27th January 2018
in 21seiki-no-mori taiikukan(21st Century Forest Gym),
Nago city
---
Opening ceremony
Science Show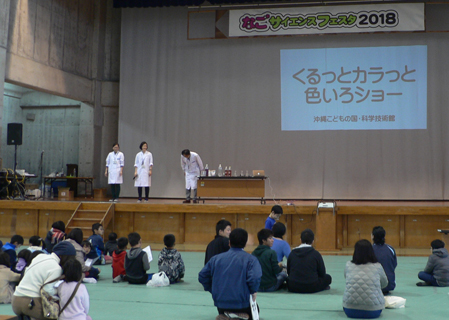 Paper cup Speaker Workshop
NICT Okinawa Booth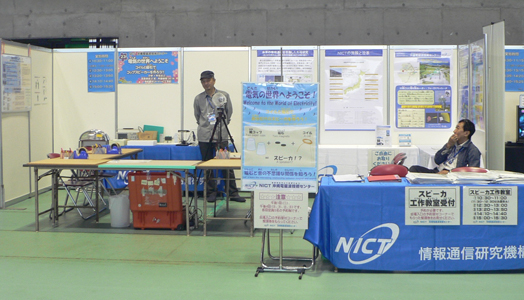 Lecturing on sound and structure of a speaker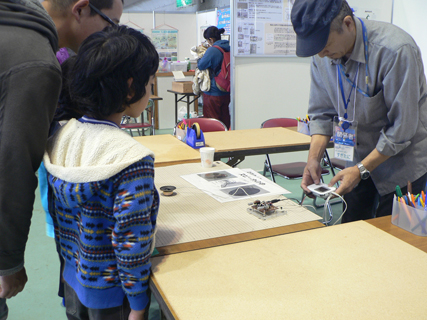 Making a coil
Drawing on the paper cup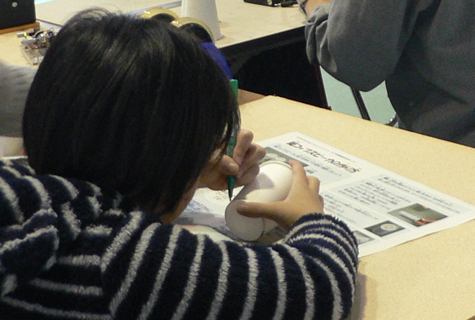 Setting the magnets inside and outside of the paper cup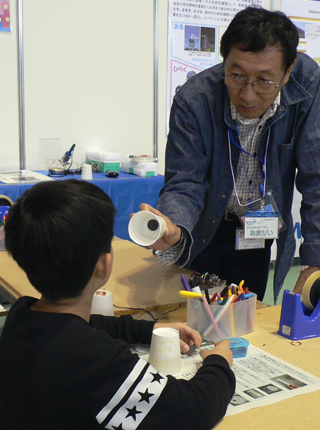 Soldering the speaker code to the coil
Suceeded!!