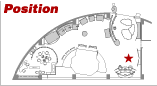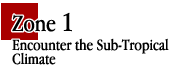 Atmospheric and Ocean Crossroads:Okinawa


Introduction of global air and ocean currents intersecting in Okinawa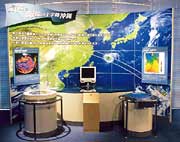 The jet stream moves high in the atmosphere, and the Kuroshio Current (Japan Current) flows in the waters around subtropical Okinawa. Significant air and water circulation and the interchange of heat and water take place in this area. Okinawa is an important location for observation documenting the circulation of air and water, which is demonstrated in this exhibition booth on a global scale through satellite photos and an interactive display that allows visitors to guide a monitor on an Okinawan-themed glass panel.





Take a look at the jet stream created by the earth's rotation.
Through the use of an interactive display you can manipulate the jet stream by means of a rotating water tank simulating the earth. Be sure to experience this aspect of the jet stream flowing around the earth.

This exhibition was ended.



Have a look at an ocean current generated by the earth's rotation.
Another interactive display will allow you to see a Pacific Ocean current by rotating a ball representing the earth. You can see that the Kuroshio Current flowing from the coast of Okinawa to mainland Japan is part of the northern hemisphere's water circulation.



The circulation of air on the earth
On display are wind velocity and direction in the Pacific as observed by the NASA scatterometer (NSCAT) that was installed on the Advanced Earth Observing Satellite (ADEOS) "Midori."




Ocean currents and the crust of the earth
This exhibit presents the surface temperatures of the East China Sea recorded by the Ocean Color and Temperature Scanner (OCTS) that was installed onboard ADEOS "Midori."